I'll assume you're here because you know how great your life can be. And you want the tools to write your own success story.
The people who succeed are better at telling themselves more empowering stories about their circumstances, about themselves and about others. This puts them in a position to win mentally, emotionally and practically.
I've realized that some of the most powerful quotes are simply successful people stating their core beliefs. Here are a few examples:
"There's a certain delusional quality that successful people have to have. You have to believe that...something different can happen." - Will Smith
"What I know is that if you do work that you love, and the work fulfills you, the rest will come." - Oprah Winfrey

"When something is important enough, you do it even if the odds are not in your favor."- Elon Musk

It's clear how just these specific core beliefs by themselves have contributed to the successes of each of these individuals.
Are all these beliefs (stories) true? Doesn't matter. What matters is that these people operated as though they were absolutely true. And that determined the decisions they made, what they believed was possible, how much effort they put forth, among other factors.
In other words, they chose stories (beliefs) that empowered them to succeed.
And that's why I created the Mindset Shifts Masterclass—to help you choose stories that empower you to succeed.
---
Who would you be without your limiting stories?
How would your behavior change?
What kind of action would you take?
How would your life be different?
Would you start that business you've always wanted to start?
Would you take inspired action to make a change in your life?
Would you feel more confident in your romantic life because you knew what you brought to the table?
Would you recognize your unique talents and abilities and share them with the world?
When I discovered the power of my stories, I used this ability to:
Let go of my insecurity and confidently pursue the woman of my dreams (my wife, Vanessa)
Overcome "imposter syndrome" about being an entrepreneur and build a business I love.
Create more financial prosperity in my life by releasing limiting stories I was telling myself about money and debt
This course is a shortcut to getting unstuck. It's the course I wish I would've had years ago when I was struggling.
It is the result of hundreds of books and a decade of study and trial and error in my own life. It is a summarization of my studies in personal development, psychology and philosophy. It's essentially an on-the-go virtual mentor.
I also included a forum/community aspect where you will be able to connect with other people who are taking the course to discuss the concepts and help each other out.
Oh, and there's even a personal coaching component! That's right, you'll get personal access to yours truly. Within the Masterclass Facebook group, I'll be answering giving video trainings, hosting group coaching, answering questions and providing you with feedback.
---
How this course can help you
The Mindset Shifts Masterclass will help you uncover the unconscious stories you are telling yourself and let go of the ones that are holding you back.
More importantly, this course will give you practical and tested strategies to help you create new stories that empower you to be who you truly know you can be.
What's included in the course:
6 weeks worth of lessons, delivered in audio, video and text format.
Clear, simple, practical advice that gets results
New lessons every week for six weeks.
A forum to connect with other students going through the same course
An accompanying printable workbook
Recommended resource guides, including videos, books, articles for further study
All said and done, this course has value of well over $1,000, however...
I want to offer you access to this Masterclass for just $297.
Because of the level of personal support I want to offer, I am limiting enrollment.
I've put my heart and soul into this course and I'm so excited to share it with you. I'm looking forward to meeting you!
To your success,
Ruben Chavez
This course is for you if…
You love personal development but want a more personal and hands-on approach to implementing these principles in YOUR life.
You loved the Mindset Shifts Mini-Course but want something more advanced to make longer lasting changes in your life.
You want to learn how to let go of negative beliefs, stories and relationships that no longer serve you.
You know you have the power to change your reality and you want to improve your stories so you can help those you love change their stories for the better too!
You have dreams and know you deserve more from life and want the tools to take inspired action toward a better you.
You feel stuck in your life and overthink your next steps, ultimately making no moves because you fear making the wrong one.
This course is NOT for you if…
You enjoy being part of the ThinkGrowProsper community but don't have an interest in adjusting your mindset, achieving goals or improving your life.
You aren't willing to invest any more time in yourself. This course teaches a lot of time-saving strategies, but will still require some dedicated effort on your part. Investing time in yourself is an act of self-care and is non-negotiable if you hope to benefit from the program.
Frequently Asked Questions
When does the course start and finish?
The course begins September 10th 2018! Modules will be every other week for six weeks with support and bonuses throughout.
How long do I have access to the course?
How does lifetime access sound? After enrolling, you have unlimited access to this course for as long as you like - across any and all devices you own.
How much time should I expect this course to take?
Short answer: there will be about 2 hours of material in the program each week. Long answer: The biggest investment of time will be integrating this course into your life. It takes 21 days to build new habits. I will also be including additional resources (videos, books,articles, etc.) Meaning, you can invest as much time in this course and yourself as you see fit. :)
How will the course be delivered?
There will be video, audio and text components to the course, to make sure there is something for every kind of learner. There will also be printable worksheets & action steps to integrate in your life.
What if I am unhappy with the course?
We would never want you to be unhappy! If you are unsatisfied with your purchase, contact us in the first 10 days and we will give you a full refund.
"I thank you so much, because you helped me a lot to overcome my insecurity , and have more confidence within myself. Thanks for letting me know, that we have an incredible power, which is the power of the mind."
- Ivan D.
You have helped me grow in so many ways. I have let go of so much that does not belong to me in my life to carry. I am free and living it.

- Prisha G.
Your Instructor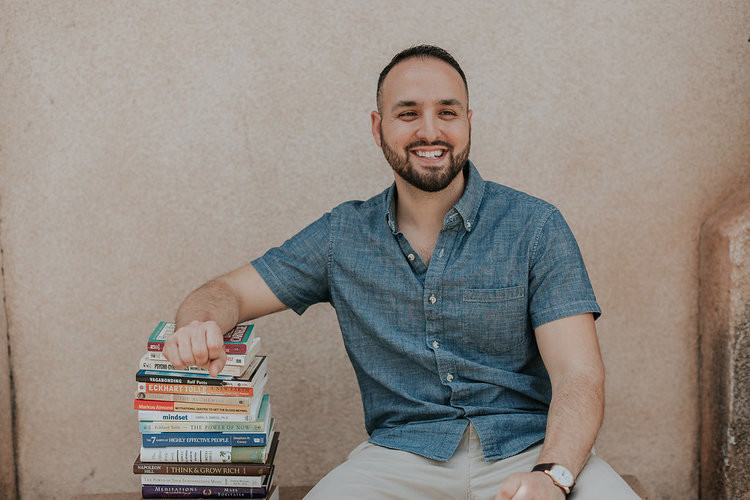 Ruben Chavez is a writer, personal development educator, and host of The Think Grow Podcast. He has created a community of over 3 million readers across his collective platforms, including his popular Instagram page ThinkGrowProsper. Along with this blog, these platforms are his way of inspiring and connecting with thoughtful, creative, and ambitious people just like you.